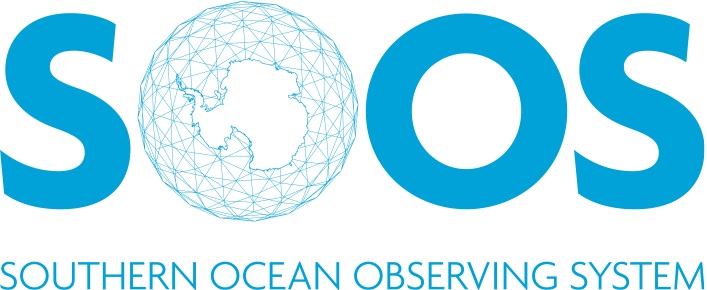 The SOOS mission is to facilitate the collection and delivery of essential observations on dynamics and change of Southern Ocean systems to all international stakeholders (researchers, governments, industries), through design, advocacy and implementation of cost-effective observing and data delivery systems.
The Southern Ocean Observing System (SOOS) is an international initiative of the Scientific Committee on Antarctic Research (SCAR) and the Scientific Committee on Oceanic Research (SCOR). Developed over many years, SOOS was officially launched at the end of 2011 with the opening of the International Project Office, hosted by the Institute for Marine and Antarctic Studies (IMAS), and the Australian Research Council's Antarctic Gateway Partnership at the University of Tasmania, Australia. Since then, SOOS has built a network of stakeholders and contributors, all working together to achieve the community-defined mission and objectives.

Objectives
SOOS Objectives are structured to follow a logical sequence of implementation: Design of the System, Capabilities, Observations, Regional Implementation, Data Deliver, Support Activities. For more information on the objectives and associated deliverables, please see the current 5-Year Implementation Plan.
Facilitate the design and implementation of a comprehensive and multi-disciplinary observing system for the Southern Ocean
Unify and enhance current observation efforts and leverage further resources across disciplines, and between nations and programs
Facilitate linking of sustained long-term observations to provide a system of enhanced data discovery and delivery, utilising existing data centres and programmatic efforts combined with, as needed, purpose-built data management and storage systems
Provide services to communicate, coordinate, advocate and facilitate SOOS objectives and activities

The SOOS Vision
The SOOS vision is that all stakeholders will have access to a sustained of observational coverage that will provide a foundation to advance understanding of the Southern Ocean and to address critical societal challenges.
In 2013, SOOS published its vision for the future, outlining the long-term goal of SOOS, the gains inherent in its implementation, and how the international community can move towards achieving it.

The SOOS vision is nicely summarised in this schematic. It shows a cyberinfrastructure-based vision for SOOS, where marine assets would include a mixture of both autonomous and non-autonomous platforms, but relying more heavily on the former over time. Combined with satellite remote sensing, the data would be relayed to ground stations in real time, where assimilating ocean models would produce near real-time state estimates of each of the parameters in the system. The error fields associated with these assimilating models would then be used to re-task the autonomous platforms in real time, thus maximising the spatial-temporal coverage of each of the parameters being measured, without specific need for human intervention.
The above vision is many years away, and it behoves us to work towards it progressively, yet strategically. Significant advances in cyberinfrastructure, modelling and observation technologies are needed to achieve the required capabilities. Further, international cooperation, infrastructure and investment are critical for the success of SOOS.

SOOS Products
SOOS is responsible for two SCAR Products:
SOOSmap - an interactive map of standardised and aggregated datasets from the Southern Ocean.
DueSouth - a database of planned expeditions to the Southern Ocean.

SOOS Reports
14 December 2022

377 KB

200 downloads

15 August 2022

1.19 MB

108 downloads

15 April 2021

227 KB

952 downloads

03 October 2019

169 KB

918 downloads

31 July 2019

533 KB

964 downloads

22 January 2019

134 KB

997 downloads

20 September 2018

935 KB

1446 downloads

02 August 2017

1.04 MB

2424 downloads

01 June 2017

330 KB

1463 downloads

30 August 2016

174 KB

1368 downloads

30 August 2016

1.34 MB

1424 downloads

30 August 2016

204 KB

1495 downloads

01 June 2016

174 KB

1368 downloads

28 August 2015

303 KB

2069 downloads

28 August 2015

434 KB

1526 downloads

10 June 2015

179 KB

1317 downloads

03 September 2014

465 KB

1434 downloads

07 May 2014

273 KB

1280 downloads

23 July 2013

453 KB

1321 downloads

29 May 2013

193 KB

1418 downloads

25 July 2012

215 KB

2058 downloads

20 June 2012

199 KB

1228 downloads

01 January 2012

5.86 MB

2167 downloads

19 July 2011

99 KB

1243 downloads

01 July 2011

745 KB

1260 downloads

11 August 2010

303 KB

1259 downloads

14 May 2010

670 KB

1252 downloads

01 October 2009

464 KB

1412 downloads

08 May 2009

592 KB

283 downloads

11 July 2007

66 KB

1220 downloads

31 August 2006

327 KB

338 downloads

Learn more about SOOS by visiting their website: www.soos.aq