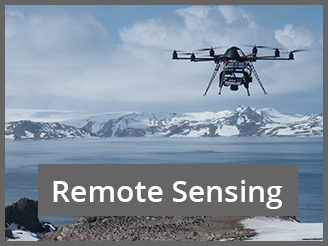 The SCAR Action Group on Remote Sensing was established at the XXXII SCAR Meeting in Portland 2012 with the full name "Development of a satellite-based, Antarctic-wide, remote sensing approach to monitor bird and animal populations", initially for a period of three years, with the aim of addressing the topic of "Animal monitoring via remote sensing". A number of publications on that topic, several published in 2012, indicated that the importance of satellite-based remote sensing for monitoring purposes was growing. In these various publications, different methodological approaches were proved and discussed
A working meeting of the Remote Sensing group was held during the XIth SCAR Biology Symposium on 19 July 2013 in Barcelona, and followed by a meeting and symposium at the XXXIII SCAR Meeting in Auckland 25 August 2014. Important points discussed included relevant databases for collecting penguin (and other seabirds and seals) abundance data, collected with remote-sensing methods, rules for using drones (UAV) over penguin colonies and continued discussions about new satellite technologies.
The group also met at the XIIth SCAR Biology Symposium in Belgium (2017) and the SCAR/IASC Conference in Davos (Switzerland) 2018.
The Remote Sensing AG aimed to focus on future developments in a number of multi-disciplinary research fields, including new and emerging research frontiers in Antarctic science:
Recent technology in geospatial science over the last decade motivated major advances in our understanding of the Antarctic continent and surrounding oceans. These developments included the use of new satellite remote sensing platforms (e.g. WorldView and Landsat series of satellites) and methods to obtain geospatial information, such as automatic/semi-automatic extraction of information from remote sensing images, new mapping techniques for ice sheet properties (roughness, thickness and velocity), usage of remotely sensed data for Antarctic glaciological and mass balance studies, and ice sheet flow and geodynamics over short temporal scales.
Remote sensing of the marine cryosphere (including sea ice and its snow cover) and its interactions with ocean and atmosphere and generation of digital elevation models (DEMs) of Antarctic regions.
Rapid developments in monitoring bird and seal populations and habitats with remote sensing applications using unmanned aerial vehicle (UAV), including disturbance capability and environmental impacts of UAVs on bird and seal populations.
The use of Autonomous Underwater Vehicle (AUV) technology to investigate small-scale characteristics and changes. Much of this research is cross-disciplinary in its nature and this has led to noteworthy advances across a range of Antarctic scientific disciplines.
The group aimed to merge snow and ice studies with climate research, ice-ocean interaction, and animal monitoring via remote sensing.
The Co-Chairs of the Remote Sensing group were:
This email address is being protected from spambots. You need JavaScript enabled to view it. (Polar and Bird Ecology Group, Jena University, Germany)
This email address is being protected from spambots. You need JavaScript enabled to view it. (Think, Jena University, Germany).
Other members of the group included:
Heather Lynch (Stony Brook University, USA)
Michelle La Rue (University of Minnesota, USA)
Peter Fretwell (British Antarctic Survey, UK)
Ewe Hong Tat (Universiti Tunku Rahman, Malaysia)
Shridhar Jawak (National Centre for Polar and Ocean Research, India)
Rob Massom (Australian Antarctic Division, Australia)
Oscar Schofield (Rutgers University, USA)
Mathew Schwaller (NASA Goddard Space Flight Center, USA)
Malgorzata Korczak-Abshireb (Polish Academy of Sciences, Poland)
Paul Morin (Polar Geospatial Center, USA)
Marie-Charlott Rümmler (Jena University, Germany)
Barbara Bollard Breen (Auckland University of Technology, New Zealand)
The Remote Sensing group merged with the Earth Observation Action Group in 2021.
Terms of Reference
Goals:
Defining what are the goals/objectives of the proposed monitoring programme. What are the questions we want the programme to answer? What are the key parameters we need to define in order to answer these questions? What are the temporal and spatial ranges and scales we have to consider to get the necessary information?
Present state of species:
Formulating the present state of available knowledge for individual species, specifically on the distribution, population and on-going monitoring programmes.
Gaps:
What are the important gaps? What do we need to understand better? What are the most important research demands we should work on? How can we work on them?
Methodology/technology:
Which methodologies and technologies are available to fill the gaps? What is the role of different remote sensing techniques in this setting? Which new approaches look promising regarding result quality and research effort? Compiling the methodical state of the scientific knowledge in terms of a satellite-based, remote sensing approach. Keeping an eye on technological advances.
Monitoring strategy:
Designing a monitoring strategy that optimizes the relationship between outcome and long-term monitoring effort. Maximizing the resources of the participants.
Input data access:
Organizing data access. Who has access to which data? Which of these could be shared? Consulting data providers.
Output data access:
Designing an easy and open access for the scientific community to the monitoring results. What are the outcome parameters to be produced and how can they be stored, exchanged and published? Solving questions on standards, formats, media and metadata for the database/geo-database.

Publications
Remote Sensing Group reports:
15 April 2021

196 KB

669 downloads

16 September 2019

88 KB

1365 downloads

05 September 2019

126 KB

2285 downloads

05 September 2019

106 KB

2261 downloads

20 September 2018

755 KB

2706 downloads

02 August 2017

1.18 MB

3284 downloads

30 August 2016

1.79 MB

2525 downloads
Remote Sensing Group papers:
Casanovas, P., Black, M., Fretwell, P., & Convey, P. (2015). Mapping lichen distribution on the Antarctic Peninsula using remote sensing, lichen spectra and photographic documentation by citizen scientists. Polar Research, 34(0). doi:10.3402/polar.v34.25633
Fretwell, P. T., & Trathan, P. N. (2009). Penguins from space: Faecal stains reveal the location of emperor penguin colonies. Global Ecology and Biogeography, 18(5), 543- 552. doi:10.1111/j.1466-8238.2009.00467.
Fretwell, P. T., LaRue, M. A., Morin, P., Kooyman, G. L., Wienecke, B., Ratcliffe, N., Trathan, P. N. (2012). An Emperor Penguin Population Estimate: The First Global, Synoptic Survey of a Species from Space. PLoS ONE, 7(4). doi:10.1371/journal.pone.0033751
Fretwell, P. T., Staniland, I. J., & Forcada, J. (2014). Whales from Space: Counting Southern Right Whales by Satellite. PLoS ONE, 9(2). doi:10.1371/journal.pone.0088655
Goebel, M. E., Perryman, W. L., Hinke, J. T., Krause, D. J., Hann, N. A., Gardner, S., & Leroi, D. J. (2015). A small unmanned aerial system for estimating abundance and size of Antarctic predators. Polar Biol Polar Biology, 38(5), 619-630. doi:10.1007/s00300-014-1625-4
LaRue, M. A., Kooyman, G., Lynch, H. J., & Fretwell, P. (2014). Emigration in emperor penguins: Implications for interpretation of long-term studies. Ecography, 38(2), 114-120. doi:10.1111/ecog.00990
Lynch, H. J., & LaRue, M. A. (2014). First global census of the Adélie Penguin. The Auk, 131(4), 457-466. doi:10.1642/auk-14-31.1
Rümmler, M., Mustafa, O., Maercker, J., Peter, H., & Esefeld, J. (2015). Measuring the influence of unmanned aerial vehicles on Adélie penguins. Polar Biol Polar Biology. doi:10.1007/s00300-015-1838-1
Schwaller, M. R., Southwell, C. J., & Emmerson, L. M. (2013). Continental-scale mapping of Adélie penguin colonies from Landsat imagery. Remote Sensing of Environment, 139, 353-364. doi:10.1016/j.rse.2013.08.009
Zmarz, A., Korczak-Abshire, M., Storvold, R., Rodzewicz, M., & Kędzierska, I. (2015). Indicator Species Population Monitoring In Antarctica With Uav. Int. Arch. Photogramm. Remote Sens. Spatial Inf. Sci. ISPRS - International Archives of the Photogrammetry, Remote Sensing and Spatial Information Sciences, XL-1/W4, 189- 193. doi:10.5194/isprsarchives-xl-1-w4-189-2015