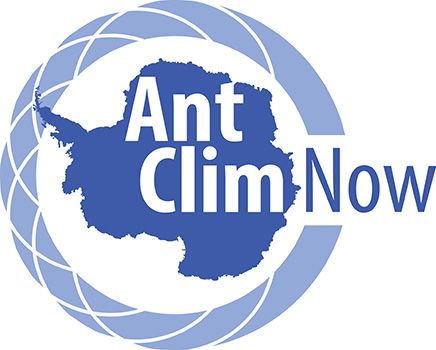 AntClimnow (Near-term Variability and Prediction of the Antarctic Climate System) is one of SCAR's new flagship Scientific Research Programmes (SRPs).
AntClimnow aims to answer fundamental science questions (as identified by the SCAR Horizon Scan), relating to Antarctic climate variability. The programme aims to take a regional approach to observing and modelling the Antarctic environment, but taking an integrated approach that will consider the Antarctic as a whole.
The SRP will investigate prediction of near-term conditions in the Antarctic climate system on timescales of years to decades. These time scales are highly relevant across multiple disciplines and to a range of key stakeholders, whilst aligning strongly with scientific priorities identified as part of the SCAR Horizon Scan. Membership of the group is from a range of countries, representing the physical sciences and biological sciences. The breadth of expertise comprises atmosphere, ocean, ice, chemistry and biology.
Fill out the membership application form if you are interested in joining AntClimnow.
---
AntclimNow monthly science talks
Subscribe to the AntClimNow mailing list to receive the Zoom links for the monthly talks.
| | | |
| --- | --- | --- |
| Date | Presenter | Title |
| 21 Mar 2023 02:00 UTC | Dr Pranab Deb | Summer air temperature extremes and surface melting over Antarctic ice shelves: the role of tropical teleconnection |
| 18 Apr 2023 15:00 UTC | Dr Alessandro Silvano | Impact of tropical Pacific forcing on ice shelf melting and bottom water formation in Antarctica |
| 16 May 2023 04:00 UTC | Dr Will Hobbs | Evidence of increased Antarctic sea ice variability |
| 20 June 2023 15:00 UTC | Dr Jonathan Wille | The extraordinary March 2022 East Antarctica "heat" wave |
| 25 July 2023 15:00 UTC | Prof Ed Blanchard-Wrigglesworth | The Antarctic heatwave of March 2022 - characteristics and attribution |
| 19th September 2023 02:00 UTC | Dr Earle Wilson | Drivers of abrupt surface warming across the Southern Ocean |
| 17th October 2023 15:00 UTC | Dr Nicolaj Hansen | The cloud-phase importance when assessing an offline firn model over Ross Ice Shelf |
| 21st November 2023 03:00 UTC | Dr Tessa Vance and Danielle Udy | Where is SAM in East Antarctica? Synoptic weather influence on the preservation of SAM variability in coastal East Antarctic ice cores |
Click here for a full list and recordings of past talks.