SCAR is delighted to present the Visiting Scholar Report authored by Dr Silvia Olmastroni, researcher at the University of Siena, Italy. Dr Olmastroni's Visiting Scholarship was hosted by the Australian Antarctic Division (AAD), with support from Dr Louise Emmerson.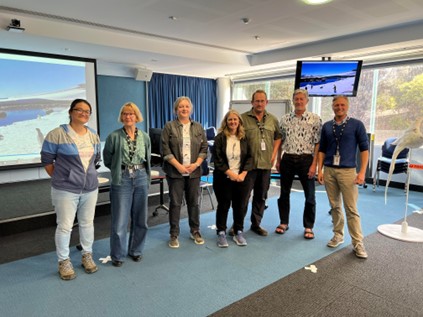 The main objective of Dr Olmastroni's Visiting Scholarship was to foster collaboration between the Italian and Australian penguin monitoring programs. Specifically, her visit provided a valuable opportunity to analyze historical datasets and recent results obtained from time-lapse cameras. This allowed for a comprehensive comparison and integration of data from various Antarctic regions, each characterized by unique environmental conditions.
Throughout her visit, Dr Olmastroni worked alongside Dr. Emmerson, engaging in data analysis and initiating a process to compare Adélie penguin data from both programs. This collaborative effort is set to continue even after the completion of Dr Olmastroni's Visiting Scholarship.
In addition to her primary research objectives, Dr Olmastroni collaborated with a diverse group of researchers involved in Antarctic and Southern Ocean research, including PhD students and experts utilizing various monitoring techniques and instruments.
Among the outputs of her visit, Dr Olmastroni participated in a public lecture at AAD and contributed to the preparation of a manuscript focusing on Adélie penguins' phenology.
Reflecting on her Visiting Scholarship experience, Dr. Olmastroni stated:
Thanks to my visit, we were able to turn many potential collaborations into reality.
Looking ahead, Dr Olmastroni and Dr Emmerson plan to sustain their collaboration, with upcoming scientific papers and the sharing of long-term instrumentation in the pipeline.
For those interested in exploring the complete report, it is available through the SCAR Library and on the SCAR Visiting Scholars webpage. You can access the report by clicking here.
The SCAR Visiting Scholar Scheme is designed to bolster research capabilities in countries with smaller or less-developed Antarctic research programs. Since its inception in 2013, the scheme has been tailored to researchers who are at least five years past their PhD, and whose work aligns with SCAR's research objectives. This initiative provides a unique opportunity for scholars to undertake short-term visits to other SCAR member countries.
Aspiring researchers can apply for the 2023 SCAR Visiting Scholar Scheme until 30th August 2023. Detailed information can be found on the SCAR website.