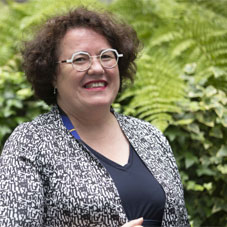 Anne Choquet is a teacher-researcher in law at the European Institute for Marine Studies (IUEM), University of Western Brittany, within the AMURE Joint Research Unit. After defending a doctoral thesis in 2003 on the protection of the environment in Antarctica, Anne Choquet continues her research work mainly in the law of the polar areas (Antarctic and Arctic). She has written numerous academic articles on both environmental protection and the management of human activities (including governance, tourism, mineral and biological resources exploitation). Among her publications of 2021, a book co-written with Frédéric Lasserre and Camille Escudé-Joffres: Geopolitics of the poles, towards an appropriation of polar spaces? (ed. Cavalier Bleu).
In addition, she is vice-president of the French National Committee for Arctic and Antarctic Research (CNFRA) and vice-president of the Western Brittany Committee of the French Institute of the Sea (IFM).
Anne Choquet has been participating in the Antarctic Treaty Consultative Meetings since 2001 within the delegation of France. She is also a member of the AREES Research Group (GDR) "Arctic: Issues for the Environment and Societies".
Research projects / interests:
Governance of human activities in Antarctica
The Antarctic Treaty System
Law of the Sea
International law
Tourism regulation in the polar regions
The role of law in protecting polar areas (Antarctic and the Arctic)
For publications visit: Anne's ResearchGate page or the HAL open archive
To get in touch: This email address is being protected from spambots. You need JavaScript enabled to view it.
Areas of interest:
Polar Governance
Tourism
Antarctic Treaty System
History
Environmental Management
Polar Policy
Geopolitics
Environment
Values
Keywords: law, environmental protection, science diplomacy, polar governance, geopolitics, Antarctica, Arctic, tourism, transport