The SCAR Antarctic Volcanism (AntVolc) Expert Group aims to promote the study of Antarctic volcanism, facilitate regional correlations and work towards establishing Antarctica as a high profile site for studying volcanic processes, especially but not solely petrology and glaciovolcanism.

Volcanoes are widespread, at environmentally strategic locations across the entire continent; several are active
Part of one of Earth's largest crustal rift zones – the West Antarctic Rift System
Outstanding probes of the Earth's inaccessible lithospheric interior
Erupted tephras ubiquitous in marine & ice cores; unrivalled tools for regional climate and time correlations
Tephras are isochronous correlateable surfaces whose sources and ages can be determined
Subglacial eruptions are unequalled sources of palaeo-ice sheet parameters (e.g. age, thickness, thermal regime)
Volcanic heat during subglacial eruptions has the potential to modulate ice-sheet behaviour and stability, and influence global climate
So, volcanic studies are crucial for a holistic understanding of the palaeoenvironmental, palaeoclimatic & geological evolution (past and future) of the Antarctic Continent.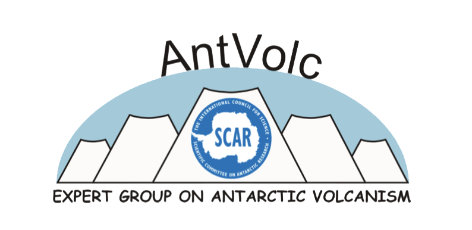 For more information, please visit the external AntVolc website.
Visit also the AntVolc Twitter and Facebook page.