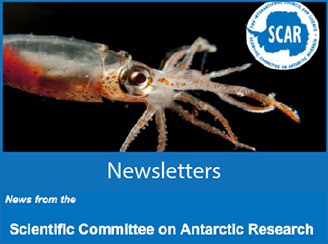 The SCAR Newsletter is currently issued monthly and sent electronically. It contains several sections including featured news, updates from SCAR's various projects and groups, community news and research highlights, updates on events and opportunities and an image of the month. We encourage the community to share news, events and photos with us by emailing This email address is being protected from spambots. You need JavaScript enabled to view it..
Receive email notification of each Newsletter issue as well as periodic updates from SCAR by subscribing to SCAR News.
---
Latest SCAR Newsletters
Newsletters from May 2019 are available from the MailChimp Archive or SCAR Library.
The monthly SCAR Newsletters from March 2017 to September/October 2017 are available as pdfs from the Folder SCAR Library , or via the Newsletter folder below.
Prior to November 2016, newsletters were produced quarterly and can be downloaded from the SCAR Library. From January 2005 to December 2010, quarterly Newsletters were published online only and these can be viewed on the archived website.