19 August - 21 August 2016
University of Malaya & Kuala Lumpur Convention Centre, Malaysia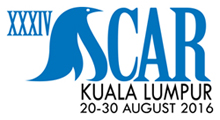 SCAR meets every two years to conduct its administrative business at the SCAR Delegates Meeting. At these meetings the members of SCAR, through their appointed Delegates, are responsible for approving SCAR finances, and formulating SCAR policy and strategy. SCAR also holds, prior to the Delegates Meeting, a major Open Science Conference to draw attention to Antarctic issues, along with meetings of the Standing Scientific Groups that are designed to finalise the Science Programmes for eventual approval by the Delegates.
Abstract can be submitted untill the 14th of february 2016. Fore more information please visit default the Conference website .
We now have prelimanry dates for the annual SCADM meeting that will take place prior to the SCAR meeting. Once again we have a 3 day meeting from 19th-21st of August. As last year the first 2 days will be for the core meeting and the last day for smaller discussions and working together on the meeting report.