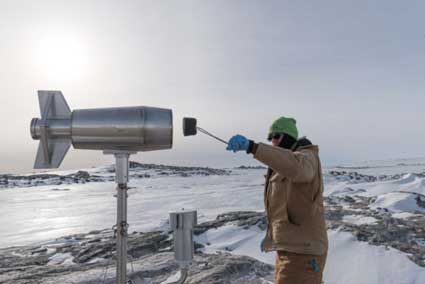 The SCAR Input Pathways of Persistent Organic Pollutants to AntarCTica (ImPACT) group was given official approval as a SCAR Action Group under Life Sciences and Physical Sciences at the XXXV SCAR Delegates Meeting in Davos, Switzerland on 25 June 2018. The purpose of this group is to facilitate coordinated investigation and monitoring of chemical input to the Antarctic region. It is a policy-driven Action Group which serves both the Global Monitoring Plan of the Stockholm Convention on Persistent Organic Pollutants (POPs), as well as the Protocol on Environmental Protection to the Antarctic Treaty (The Madrid Protocol), which explicitly prohibits the importation of chemicals of known risk to Antarctica.
Persistent Organic Pollutants (POPs) are ubiquitous, toxic, environmental contaminants that have been released through global industry over the past century. Polar Regions act as environmental "sinks" for POPs, which reach these high latitude environments through long-range environmental transport processes, as well as in situ usage.
The Action Group will specifically focus on the following objectives:
Co-ordinate current and ongoing research efforts aligned with the Action Group terms of reference, ensuring data collected meets minimum quality assurance requirements for temporal trend collation.
Pursue national and multi-national funding strategies for establishment of permanent atmospheric monitoring stations at multiple sites across the continent.
Publish collaborative synthesis works arising from coordinated monitoring efforts.
Identify avenues for scaffolding of the ImPACT Action Group towards establishment of an Antarctic Monitoring and Assessment Programme (AnMAP) body.
It is chaired by Susan Bengston Nash (Griffith University, Australia), and Pernilla Bohlin-Nizetto (Norwegian Institute for Air Research).