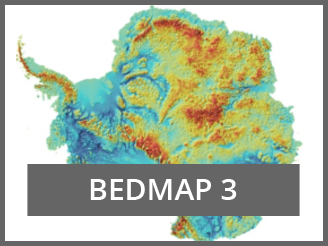 Bedmap3 has been formally approved as an Action Group by the SCAR Executive Committee (ExCom). Although the group has strong links to both the Geoscience and Physical Science communities, it will report directly to ExCom rather than through a parent Science Group.
Bedmap3 is a collaborative community project with the aim of producing a new map and datasets of Antarctic ice thickness and bed topography for the international glaciology and geophysical community, using a variety of data (for example, ice-thickness, bathymetry, surface altitude and grounding lines).
The previous products, Bedmap and Bedmap2, were supported by SCAR and have been very successful. The Bedmap2 project in particular brought together data from scientists in 36 institutions across 18 countries and the output from the project has become one of the most cited Antarctic papers of the last decade.
A core group of scientists is already working on the design and delivery of Bedmap3 and on facilitating data contribution. A wider group of interested parties is being developed, including data providers, modellers and end users. If you would like to be part of the interest group, please contact the group leader, This email address is being protected from spambots. You need JavaScript enabled to view it..