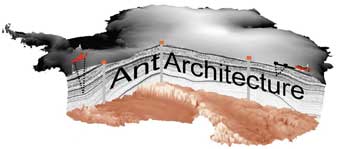 The AntArchitecture group was given official approval as a SCAR Action Group at the XXXV SCAR Delegates Meeting in Davos, Switzerland on 25 June 2018. It is jointly sponsored by the Geosciences and Physical Sciences Groups.
The AntArchitecture group aims to develop a continent‐wide, age‐depth model of Antarctica's ice using the internal layers and surfaces (the architecture) imaged by radar‐sounding, with the goal of determining the stability of the Antarctic Ice Sheets over past glacial cycles.
Prior to the establishment of the group, a two‐day workshop was held in July 2017 at the University of Edinburgh in order to identify the main challenges in assembling an Antarctic‐wide database from radar data, and to identify the objectives of the group. You can view the pdf report of the workshop (357 KB) in the SCAR Library.