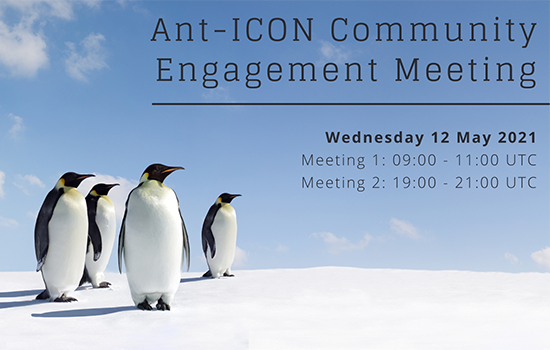 Registration is now open for the Ant-ICON Community Engagement Meeting.

The aim of this meeting is to provide an opportunity to hear from the Steering Committee and provide a forum where a broad cross-section of the Antarctic research community can ask questions and discuss ideas. All are welcome!
It will take the form of a town-hall type meeting, with short presentations from Chief Officers, Deputy Chief Officers and Theme Leads, with opportunities for broad discussion and questions throughout the meeting.
The same meeting will be held twice to provide better access across multiple time zones.
Date: 12 May 2021 (UTC)
Meeting 1: 09:00 - 11:00 (UTC)
Meeting 2: 19:00 - 21:00 (UTC)
You can now watch the recording of Meeting 2 here:
https://youtu.be/IOPpYv9MP60
---
Agenda
00:00 – Introduction and Overview
00:25 – Research Theme 1: Current state and future projections of Antarctic systems, species and functions
00:40 – Research Theme 2: Sustainability and impact mitigation of human activities in the Antarctic region
00:55 – Research Theme 3: Socio-ecological approaches to Antarctic and Southern Ocean conservation
01:10 – Synthetic Theme: Science synthesis for decision-making and policy development
01:25 – Wrap-up and proposed activities for 2021
01:30 – General Q&A
02:00 – Meeting end
Make sure to subscribe to the
Ant-ICON mailing list
to hear about the latest news, events and opportunities to get involved with the programme.