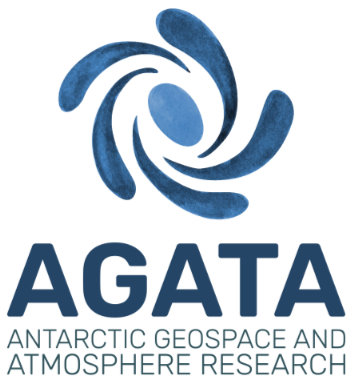 AGATA's (Antarctic Geospace and ATmospheric reseArch) kick-off meeting will be held on 12 July 2023 from 12:00 to 13:30 CEST as a side event of the IUGG General Assembly in Room M6, City Cube, Level 3. A light lunch will be provided.
Zoom access is available for those unable to attend in person. Please contact the meeting organisers if you would like to join the meeting remotely.
The agenda for the meeting is:
12:00 Welcome
12:05 Presentations from the awarded students/ECRs to explain why they need AGATA

Aksonova K. - Characteristics of traveling ionospheric disturbances over the European mid-latitude region during 24 Solar Cycle
Dutta R. - Observational evidence for the influence of diurnal tides in driving the Arctic and Antarctic UMLT winds
Iochem P. - The controlling parameters of Joule heating driven by CMEs and HSSs
Kumar Ramatheerthan S. - Sudden Stratospheric Warming – Revisiting the Definition of Polar Stratospheric Warming from an Ionospheric Perspective
Rathi R. - Effects of substorm induced prompt electric fields on the mid-latitude ionospheric plasma structures
Schillings A. - Investigation of sub-auroral polarization streams (SAPS) combined with magnetic field data

12:35 AGATA overview
13:05 Open discussion
13:30 Finish
We look forward to seeing you in Berlin!