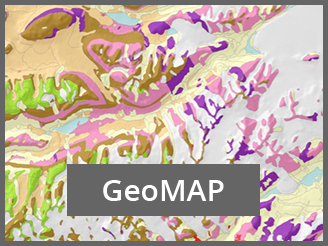 GeoMAP is a collection of datasets comprising geological information for Antarctica, including both rock and surficial deposit information. They have been compiled by the GeoMAP team led by GNS Science. This work utilised co-funding from GNS Science's Nationally Significant Databases and Collections Programme (NSDC) and international collaboration through the SCAR GeoMAP project.
GeoMAP represents a synthesis of existing published and unpublished mapping of the geology of the Antarctic continent in a single geodatabase at a regional scale. The data comprises geological unit polygon geometry and attribute fields describing the unit type, name, age, lithology, stratigraphy, and supporting background information, where this is known and geological fault polyline geometry and attribute fields describing locational accuracy, exposure, fault type, and supporting background information, where this is known.
GeoMAP material is licensed under a Creative Commons Attribution 4.0 International License. Where the data are used in a figure GeoMAP requests attribution in the following manner: © SCAR GeoMAP and GNS Science 2022. Where reference to the data is to be included in a Reference List and the data is from a single published map, reference to that original source is suggested. If the data come from multiple sheets or the source cannot be identified then the following citation for GeoMAP.v.2022-08 is suggested:

Cox S.C., Smith Lyttle B. and the GeoMAP team (2022). SCAR GeoMAP dataset. GNS Science, Lower Hutt, New Zealand. Release v.2022-08. https://doi.org/10.21420/7SH7-6K05
A GeoMAP web-based explorer can be accessed directly through Antarctic Explorer.
For queries about GeoMAP, please get in touch with the This email address is being protected from spambots. You need JavaScript enabled to view it..