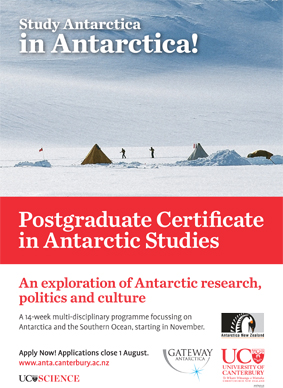 The Postgraduate Certificate in Antarctic Studies (PCAS) is a 14-week, in‐depth, multi‐disciplinary programme of study that critically examines contemporary scientific, environmental, social and political debates focused on Antarctica and the Southern Ocean.
Jointly developed by the University of Canterbury and Antarctica New Zealand, this unique summer programme is the only programme in the world to take students to experience life in the Antarctic – at Scott Base, New Zealand's station on Ross Island, and at a field campsite on the Ross Ice Shelf. The 10-day visit to Antarctica is supported by Antarctica New Zealand, and participants undertake a mix of analytical and interpretive field projects and environmental monitoring projects in the vicinity of Scott Base.

The programme provides a unique Antarctic experience that is valuable for:
Future Antarctic researchers;
Employees and managers within National Antarctic Programmes;
Employees within government agencies involved in Antarctic policy or environmental management;
School teachers and university lecturers; and
Antarctic enthusiasts.
The programme can be used as part of a Master's Degree. While the University of Canterbury does not offer scholarships for PCAS, financial support may be available for participants from National Antarctic Programmes and through external funding bodies.

Please note that applications for PCAS close on 1 August 2017.

For further details, please visit the PCAS website.