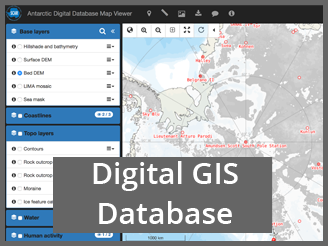 The SCAR Antarctic Digital Database (ADD) is a seamless compilation of topographic data for Antarctica to 60°S. The ADD is the place to view, query and download topographic datasets such as the Antarctic coastline, contours and rock outcrop.

ADD datasets and data access
Coastline, including grounding lines and ice shelf fronts
Rock outcrop
Contours
Lakes
Moraine
Streams
Seamask
ADD data limit at 60°S
All datasets are in WGS84 Antarctic Polar Stereographic projection, EPSG 3031.

Update frequency
Data updates occur on a six-monthly basis. The data was last updated on 12th May 2021.

Contributing to the ADD
The ADD is a service to the whole Antarctic science and logistics community, and as such we invite all users of the data to be active participants in improving its quality. Any inconsistencies can be reported via the web interface (the feedback button in the top navigation bar), or to the This email address is being protected from spambots. You need JavaScript enabled to view it.. Similarly, any new or updated data from users are welcome for potential future inclusion in the ADD. Please also contact us if you have any questions about the ADD generally.

Licensing
When using the data, please refer to the data catalogue for the required citation for each dataset.

Contact
Please get in touch with the This email address is being protected from spambots. You need JavaScript enabled to view it. for any queries related to the ADD.