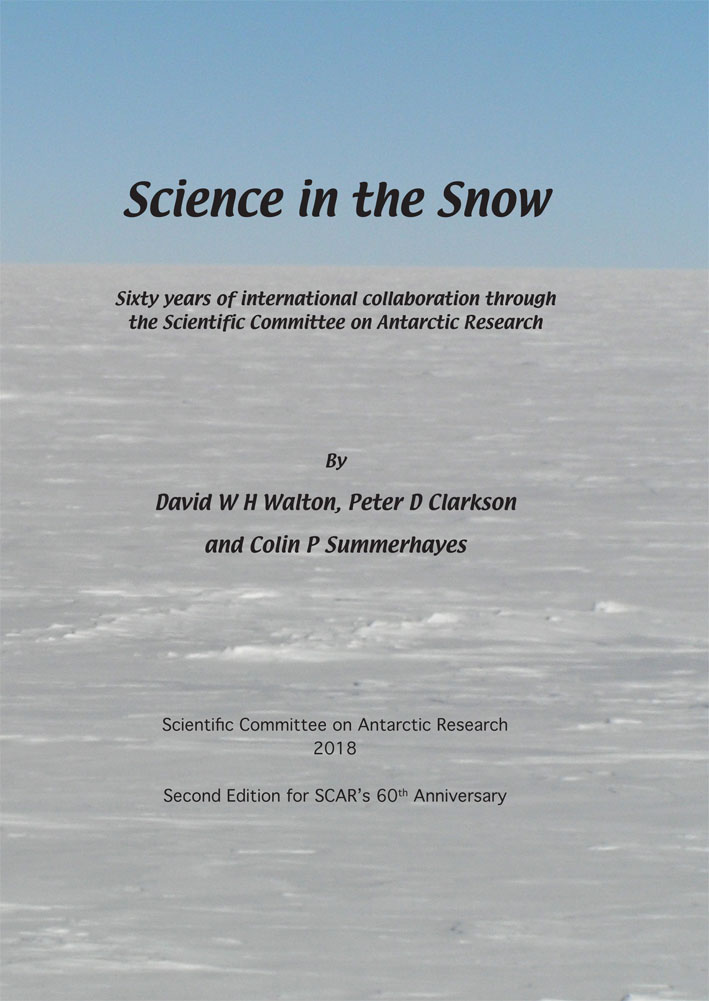 We are delighted to announce the online release of the second edition of 'Science in the Snow' – our landmark book, which details the History of SCAR since its inception in 1958.
The first edition, released in 2011, covers SCAR's first half century. This latest edition, produced to mark SCAR's 60th birthday, brings the book up to date with a synopsis of the past 10 years. It covers key recent achievements such as SCAR's highly cited Horizon Scanning exercise in 2014.
Authored by David W H Walton, Peter D Clarkson and Colin P Summerhayes, 'Science in the Snow' provides a comprehensive history of SCAR's work, drawn from a fascinating mix of sources, ranging from personal recollections to official records of SCAR meetings.
The second edition is available in two formats. Where the first edition was available only in hardcopy, the second edition has also been published in electronic format and is available to view and download through the SCAR Library: folder Science in the Snow . A hardcopy version of the second edition will be available for purchase in October.
"In describing SCAR's achievements and the people behind them, this volume portrays clearly the value of the voluntary contributions to the organization. SCAR has an extraordinary history of facilitating discoveries and unveiling their implications. It has also helped deliver fundamental science that is breathtaking in its scope and its beauty"
SCAR President Professor Steven Chown, School of Biological Sciences, Monash University
".. SCAR remains a beacon for those who care about international scientific co-operation, peaceful co-existence and information-sharing. Resolutely international and multi-disciplinary, this collection is a celebration of 60 years of working together on and off the Ice. It serves as a testimony of an organization's capacity to change. Enjoy the chapters, and look carefully at both texts and images, for clues as to who does polar research, how does that research get done, and what and where gets studied. It should be a cause for celebration that SCAR is more diverse than ever before. Happy 60th birthday SCAR!"
Klaus Dodds, Professor of Geopolitics at Royal Holloway, University of London
and author of Ice: Nature and Culture (2018) and The Scramble for the Poles (2016).