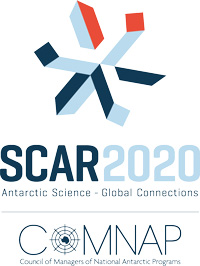 Dear Colleagues
Please see below a statement from the SCAR COMNAP 2020 Local Organising Committee.
The SCAR COMNAP 2020 Local Organising Committee, in consultation with the SCAR and COMNAP Executive Committees have decided to cancel SCAR COMNAP 2020 in light of the global Coronavirus situation. The Committee has given due consideration to local Tasmanian and Australian health advice as well as the global response to the pandemic.
The SCAR and COMNAP event hosts, the Australian Antarctic Division, the Tasmanian State Government and the Australian Academy of Science wish to express their gratitude and appreciation to SCAR and COMNAP for affording us the opportunity to host these premier Antarctic science and management events. We also wish to thank those members and sponsors who have been so generous in their support of this event.
We appreciate that this is a disappointing outcome for those that were planning to travel to Hobart in July 2020 and for those Hobart-based scientists and Antarctic industry representatives that were looking forward to showcasing our Antarctic gateway city, but the health and wellbeing of the people in the Antarctic sector and the Tasmanian community is paramount.
Further information will shortly be available regarding cancellation arrangements for registered attendees, sponsors and exhibitors and event-specific information will be sent separately from the SCAR and COMNAP Secretariats in regards to any alternative arrangements required. For any urgent enquiries please email This email address is being protected from spambots. You need JavaScript enabled to view it.
We hope everyone in the global Antarctic community is able to stay safe and well in these challenging times.