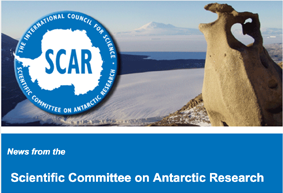 In this issue:
SCAR News
SCAR seeks Executive Director, Deadline extended for POLAR2018 Abstracts, Procedure for proposal of a new SCAR Group, Call for nominations for 2018 SCAR Medals, Glacial Seismology Training School, Report on IAG/SCAR-SERCE Workshop on Glacial Isostatic Adjustment, Update from the SCAR Secretariat, Final Circular available for 1st International ANTPAS Workshop, SCAR 2017 Fellowship awards announced, 4th Snow Science Winter School open for applications, Next Meeting for AAA SRP Announced, Remote Sensing workshop reports state of knowledge on wildlife response to UAV/RPAS, CLIVAR/CliC/SCAR Southern Ocean Region Panel activities, Marine Ecosystem MEASO18 Call for Abstracts, 2017 SCAR Visiting Professors announced, Biological Processes in Antarctic Ecosystems, AnT-ERA and IASC Marine WG Side Meeting, Fjord Ecosystems and Climate Change, SCAR Vice-President Karin Lochte awarded German Federal Cross of Merit, Obituaries: Prof Charles Bentley and Dr Carlos Alberto Rinaldi, SCAR Report from the ATCM (Bulletin 198), Prof Helen Fricker named AGU Fellow, "The Year That Made Antarctica"
Get to Know SCAR
Operational Meteorology in the Antarctic (OpMet) Expert Group
REference Antarctic Data for Environmental Research (READER) - SCAR Data Products
Featured Member Country
Republic of Korea
Research Highlights
SCAR Groups combine to predict outcomes for life on the Southern Ocean seafloor in a warming future climate, Blue ice core reveals 2.7 million years of climate history, Understanding the barriers to women in Antarctic research
Community News and Updates
IASC Fellowship 2018: Call for Applications, APECS announces 2017-2018 leadership, Two poles, one mission: Joint Arctic/Antarctic conference promotes responsible polar tourism, New Executive Secretary takes office at the Treaty Secretariat, WGMS Glacier App v2 launched, Expert reviewers sought for IPCC Special Report on Global Warming, COMNAP's AGM and Recipients of Chairman's Medal 2017, Workshop on Antarctic Ecosystem Research following Ice Shelf Collapse, Resource Available: International Arctic Observations Assessment Framework
. . . and lots of Upcoming Events!