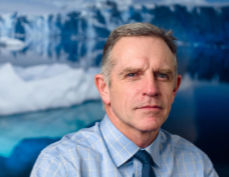 The SCAR community is deeply saddened to hear of the death of Professor David Vaughan OBE, former Director of Science at the British Antarctic Survey. David was suffering from cancer and died peacefully at home last Thursday.
David had a long history of involvement in SCAR's work during his career as a glaciologist, which spanned over three decades. Most recently he was a member of the steering committee of INSTANT (INStabilities & Thresholds in ANTarctica) and of ISMASS (Expert Group on Ice Sheet Mass Balance and Sea Level).
David was also involved in the formation of the AntArchitecture Action Group and in the work of SCAR's pdf Antarctic Climate Evolution programme (from 2005 to 2012) (260 KB) . In 2014 David took part in SCAR's Horizon Scan retreat and made valuable contributions to the widely-cited Nature paper resulting from the retreat.
David played a leading role in BEDMAP, the latest iteration of which, BEDMAP3, is supported by SCAR. BEDMAP is a collaborative project focussing on the mapping of Antarctic bed topography and ice thickness parameters that enable modelling of ice flow and predictions of future sea level rise. David was the driving force behind BEDMAP1 and BEDMAP2.
David's work on the role of ice sheets in the Earth system and their response to climate change earned him global recognition. He was coordinating lead author for the Intergovernmental Panel on Climate Change (IPCC) fourth and fifth assessment reports in 2007 and 2013.
He was a charismatic speaker and was highly effective at drawing policy makers' attention to the significance of the polar ice caps, their response to climate change and the resulting implications for society.
David was appointed Officer of the Order of the British Empire (OBE) in the 2017 New Year Honours for services to glaciology. He retired from BAS in July 2021 but remained UK lead for the International Thwaites Glacier Programme.
SCAR President, Dr Yeadong Kim, said, 'He was a scientist with great academic passion and sincerity and his death is a great loss to international Antarctic research. I send my deepest condolences to David's family and colleagues with all SCAR communities'.
SCAR Executive Director, Dr Chandrika Nath, said, 'David was a truly unique person whose warmth and enthusiasm touched all those who met him. He was an exceptional scientist and a caring and supportive colleague and friend. He will be so deeply missed.'
A memorial to celebrate the life of Professor David Vaughan will be taking place on 20 April at Churchill College, Cambridge. If you would like to join, digitally or in person, please register here: https://www.eventbrite.co.uk/e/professor-david-vaughan-obe-tickets-568223139707