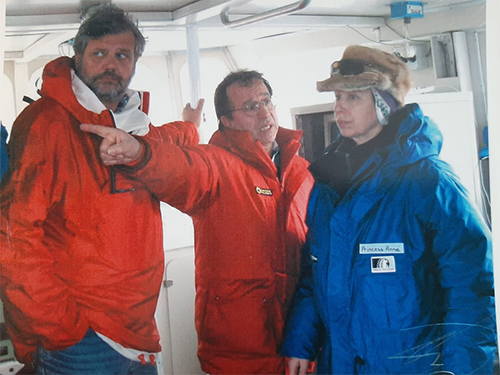 SCAR is deeply saddened to learn of the death of Prof. Riccardo Cattaneo-Vietti. Riccardo was involved in various SCAR initiatives, among them the EASIZ (Ecology of the Antarctic Sea Ice Zone) programme.
"The Italian Antarctic community deeply mourns Prof. Riccardo Cattaneo-Vietti who has prematurely passed away.
Riccardo was one of the pioneers of Italian scientific research, and with him we shared knowledge, cruises, experiments, works. It is certainly due to him, and to his research group, a first description and mapping of the benthic communities of Baia Terra Nova (Ross Sea). He was also one of the founders of an LTER site at the Italian Mario Zucchelli station. He was responsible for the establishment of ASPA 161, the coordination of several projects with important international collaborations that have led to the deepening of countless aspects of the ecology of Antarctic coastal communities.
Riccardo was for all of us a mentor, a friend, a precious colleague, always attentive, critical but constructive, always enthusiastic, curious, ironic and witty, ready to face new challenges. Always ready to encourage and motivate us colleagues as well as all the students who were lucky enough to listen to his lessons.
But his research wasn't only directed to Antarctica. Riccardo was one of the fathers of underwater scientific research, one of the promoters of the establishment and management of Marine Protected Areas in Italy, an explorer of the benthic communities (and not only) of every latitude, from the coastal communities of Antarctica to the red coral of the Mediterranean, highlighting the changes over time of our sea and in particular of the much loved Ligurian Sea. This has led to dozens of scientific and popular publications.
Riccardo has always been an explorer not only in science, but also in the history and customs related to the sea and his latest work was for his greatest passion, scientific diving.
A great travel companion, a man of enormous culture with whom every opportunity to chat was transformed into a moment of enrichment, both professional and personal.
You will always be with us, who will try to fill the immense void you left us."
- Mariachiara Chiantore on behald of the Italian Antarctic community