Education and Polar Science in Action: Bringing the polar regions into our communities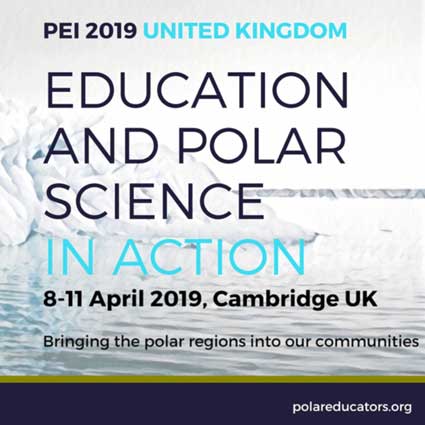 The 4th biennial workshop of Polar Educators International (PEI) will be held in Cambridge, United Kingdom, in April 2019. The conference will bring together polar educators and researchers for presentations, discussions, and hands-on workshops to explore ways to communicate polar science and the importance of the poles to communities.
When: 8 - 11 April 2019
Where: Cambridge, UK
Places are limited to early registration is advised. Register here.
Polar educators and researchers will explore the wide-ranging impacts of the poles and how we can connect them to our communities. Learn to communicate science and collaborate with professionals from all around the world to create new solutions to modern challenges.
The Workshop will be opened by Sir David King, co-author of The Hot Topic: How to Tackle Global Warming and Still Keep the Lights On, former scientific advisor to the UK Government and strong supporter of the work of the IPCC.
Sessions will include updates from leading polar researchers, hands-on science labs, training in science communication, discussion panels, snap-talk presentations, and more!
The Conference is being held in partnership with the Scott Polar Research Institute (SPRI), British Antarctic Survey (BAS), Scientific Committee on Antarctic Research (SCAR), and UK Polar Network (UKPN).