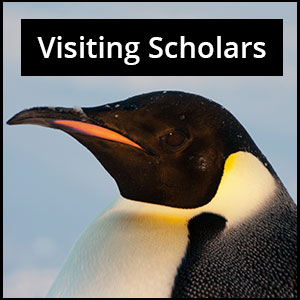 The 2020 SCAR Visiting Scholar scheme is open for applications!
SCAR Visiting Scholarships are for mid- to late-career stage scientists and academics (at least 5 years after completing their PhD) who are involved in Antarctic research, providing the opportunity for them to undertake a short-term visit (1 to 4 weeks) to an institute(s) in another SCAR member country, to provide training and mentoring.
The core purpose of the Scheme is to build capacity in countries with smaller or less-developed Antarctic research programmes. Visits can be either to smaller and developing programmes or from smaller and developing programmes, so the capacity building process can be proposed in either way. The scheme is for any scientists and academics whose research contributes to SCAR's objectives, as embodied in the Science Groups, Scientific Research Programmes and Programme Planning Groups.
The scheme provides awards of up to USD $5000 each, covering the cost of an international return flight and some contribution towards living expenses for the visiting period. Full information on the scheme, including details of the application process and assessment criteria is available on the Visiting Scholar Detailed Information page.
The closing date for applications is Thursday 15th October 2020.
The Visiting Scholar Scheme is seen to complement the early-career SCAR Fellowship Scheme by providing scientists and academics with the opportunity to intensify collaboration amongst SCAR member countries and to contribute to SCAR's objectives. Queries about the scheme should be sent to This email address is being protected from spambots. You need JavaScript enabled to view it..

More information about the scheme, personal testimony from a past Scholar and the opportunity to ask questions live will be available at the SCAR Capacity Building Sessions, being held as part of SCAR 2020 Online, on Thursday 6 August at 1500-1700 UTC and Friday 7 August at 0400-0600 UTC.
Full details are on the SCAR 2020 Online website.