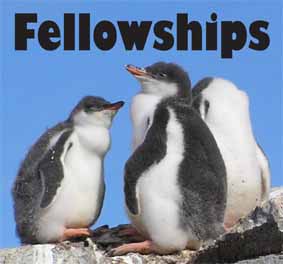 The deadline for 2020 applications for SCAR's early-career Fellowship scheme is just a week away on Wednesday 26th August.
The Fellowships enable early-career researchers to join a project team from another country, opening up new opportunities and often creating partnerships that last for many years and over many Antarctic field seasons. SCAR will offer 3 to 4 fellowships of up to USD $15,000 each for 2020.
The SCAR Fellowship Programme is for PhD students, or those within five years of having completed a PhD, to undertake research at major international laboratories, field facilities, and/or institutes in or operated by SCAR member countries with the goal of exposing them to recent advances in research and to develop long-term scientific links and partnerships. The work must be carried out in a research group of a SCAR member country different from that of the applicant's origin and current residence. Topics of projects proposed should align with SCAR's mission and ideally with one or more of our various groups.
Full details of the scheme and how to apply are given on our Fellowships Information page.
The SCAR Secretariat has compiled a list of frequently asked questions. If you can't find the answer to your question there, please email This email address is being protected from spambots. You need JavaScript enabled to view it..