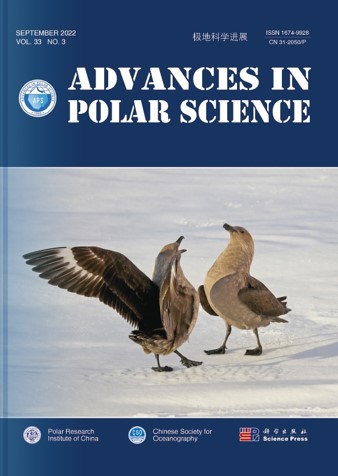 The journal Advances in Polar Science (APS) published the third issue of 2022 (Vol.33, No.3) in October, which can be downloaded for free from the website.
This issue contains one Opinion Editorial and seven articles. In the Opinion Editorial, Dr. Wang from School of Chemistry and Chemical Engineering, Linyi University, First Institute of Oceanography, Ministry of Natural Resources, China, shared some thoughts on the development of polar microbial resources. Two papers focused on the sea ice dynamic in Arctic, four papers focused on the environmental factors in polar regions, and one paper presented seabird ecology in the Southern Ocean. APS pays particular attention to publishing original papers from early career scientists, and two-thirds of the papers are contributed by them in this issue.
Advances in Polar Science, established in 1990, is a peer-reviewed international journal, dedicated to research advances and achievements in polar regions. The journal is sponsored by the Polar Research Institute of China (PRIC) and the Chinese Society for Oceanography (CSO).