Formed in 1958, the Scientific Committee on Antarctic Research (SCAR) is a thematic organisation of the International Science Council (ISC), and currently includes 46 member countries (comprising 34 full and 12 associate members) and 9 ISC unions. SCAR strives to include new members, as countries not yet engaged develop an increasing interest in Antarctic science.
To learn more about our Country and Union members, visit our Membership list.
For details of Country and Union Delegates, visit our Delegates list.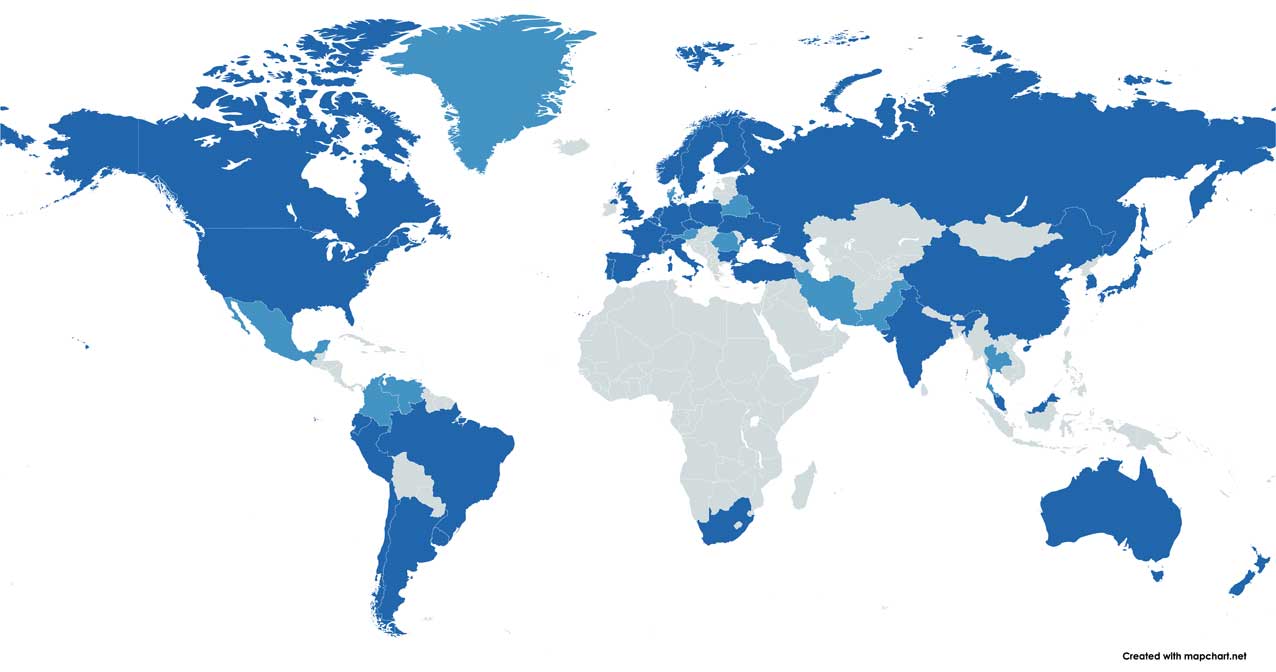 Map of SCAR member countries from June 2021

Full Members are in dark blue, Associate Members in lighter blue.
Union members are International Astronomical Union (IAU), International Geographical Union (IGU), International Union for Quaternary Research (INQUA), International Union of Biological Sciences (IUBS), International Union of Geodesy and Geophysics (IUGG), International Union of Geological Sciences (IUGS), International Union of Physiological Sciences (IUPS), International Union of Pure and Applied Chemistry (IUPAC) and Union Radio Scientifique International (URSI).


List of Member Countries by date of joining
Member
Associate Membership
Full Membership
Argentina
3 February 1958
Australia
3 February 1958
Belgium
3 February 1958
Chile
3 February 1958
France
3 February 1958
Japan
3 February 1958
New Zealand
3 February 1958
Norway
3 February 1958
Russia (assumed representation of USSR)
3 February 1958
South Africa
3 February 1958
United Kingdom
3 February 1958
United States of America
3 February 1958
Germany, Federal Republic (BRD)
22 May 1978
Poland
22 May 1978
Germany, Democratic Republic (DDR)
20 October 1980
India
1 October 1984
Brazil
1 October 1984
China
23 June 1986
Sweden
24 March 1987
12 September 1988
Italy
19 May 1987
12 September 1988
Uruguay
29 July 1987
12 September 1988
Spain
15 January 1987
23 July 1990
Netherlands
20 May 1987
23 July 1990
Korea, Republic of
18 December 1987
23 July 1990
Finland
1 July 1988
23 July 1990
Ecuador
12 September 1988
15 June 1992
Canada
5 September 1994
27 July 1998
Peru
14 April 1987
22 July 2004
Switzerland
16 June 1987
4 October 2004
Pakistan
15 June 1992
Ukraine
5 September 1994;
1 January 2017 - 25 June 2018
17 July 2006 - 31 December 2016;
25 June 2018
Bulgaria
5 March 1995
17 July 2006
Malaysia
4 October 2004
14 July 2008
Denmark
17 July 2006
Portugal
17 July 2006
25 June 2018
Romania
14 July 2008
Monaco
9 August 2010
Venezuela
23 July 2012
Czech Republic
1 September 2014
23 March 2021
Iran
1 September 2014
Austria
29 August 2016
Colombia
2 July 1990 - 3 July 1995;
29 August 2016
Thailand
29 August 2016
Türkiye (formerly Turkey)
29 August 2016
23 March 2021
Belarus
25 June 2018
Mexico
23 March 2021
Luxembourg
5 September 2022
Estonia was an Associate Member of SCAR from 15 June 1992 to 22 August 2001