From 2008 to 2021, SCAR was governed by its Memorandum of Association (the legal statement agreed when the organisation became a registered company) and its Articles of Association (the legal rules about how the organisation is run), the two documents forming SCAR's Constitution. When the Articles of Association were revised in March 2021, the Memorandum was incorporated into the Articles so that a single Articles of Association document now forms SCAR's Constitution.
More detailed rules about the duties and responsibilities of SCAR's members are laid out in the Rules of Procedure. The Rules of Procedure for Subsidiary Bodies describe how SCAR's working groups are establised and governed.
pdf Articles of Association (March 2021) (263 KB)
pdf Rules of Procedure (May 2018) (109 KB)
pdf Rules of Procedure for SCAR Subsidiary Bodies (September 2022) (197 KB)
The original (2008) versions of the Memorandum, Articles and Rules, and the updated Articles and Rules from 2018, are available in
Folder

the SCAR Library
SCAR is registered as a Company and a Charity in the UK: Company Number 6564642; Charity Number 1124840

SCAR Policies
SCAR Organizational Structure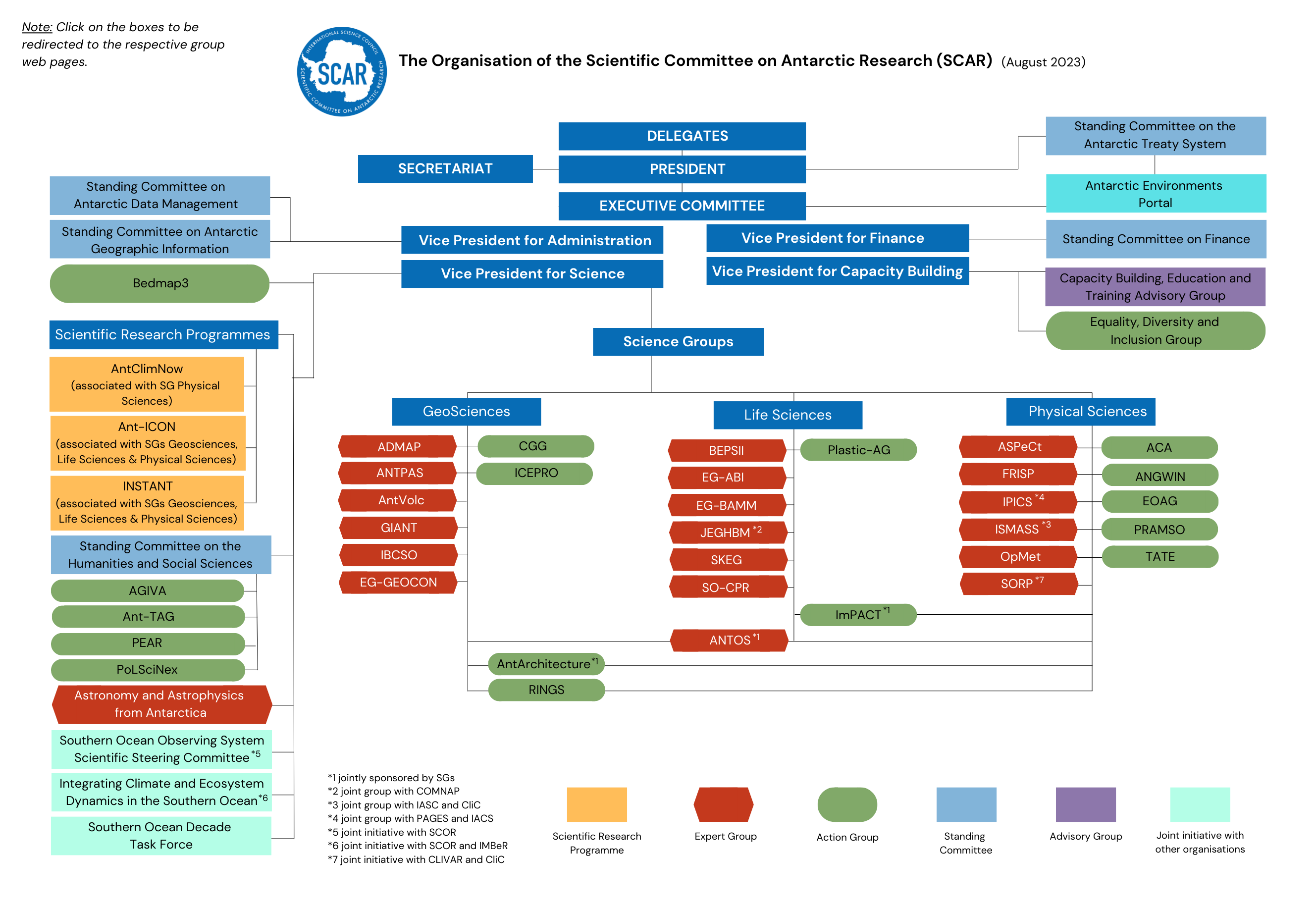 (a list of acronyms for the chart is given below)

Previous Versions of the SCAR Organisation Chart
Charts prior to 2013 are available on the SCAR Web Archive.

SCAR Reviews
SCAR conducts regular reviews of its overall performance, and of the performance of its subsidiary groups and programmes.
pdf Report on the SCAR Structural Review, 20-21 April 2015 (361 KB)
SCAR Activity
Internal Review
External Review
Science groups
every 2 years
Scientific Research Programmes (SRPs)
every 2 years
every 4 years
2016 SRP Review
Co-sponsored activities
every 2 years
every 4 years
Partnerships
every 5 years
Communication activities
no official review
Award schemes
every 5 years
Structure and organization
every 5 years
2015 Structural Review
2016 ICSU Review
Strategic Plan
every 5 years
Acronym definitions and links to subsidiary groups

Partner organisations which co-sponsor or support groups