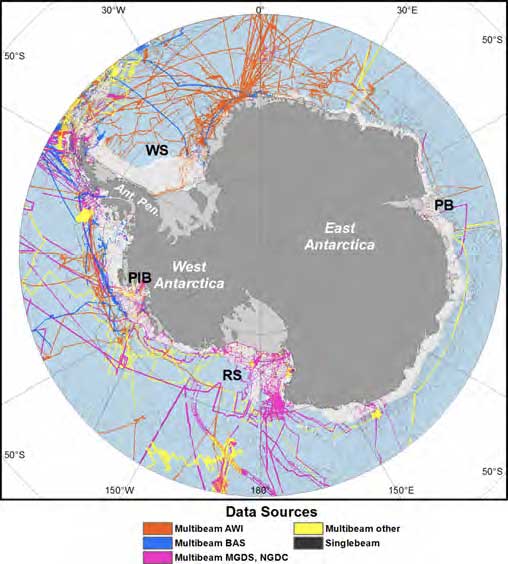 At the XXXI SCAR Delegates Meeting in August 2010, the SSG on Geosciences recommended the establishment of an Action Group to identify data needs and best practice protocols for mapping of Last Glacial cycle grounding zones using multibeam bathymetry. Mapping the position of past grounding zones of the Antarctic Ice Sheet is important in providing boundary conditions for understanding ice volume history during the last glacial cycle, in understanding regional differences in ice behaviour and in mapping the availability of refugia for marine benthic biota.
The Multibeam group aimed to:
Identify the highest priority areas where multibeam bathymetry will provide important insights into the position and retreat history of the ice sheet grounding zone and, where such data do not exist,
Set out survey design guidelines to maximise the value of multibeam surveys in interpreting grounding zone position, behaviour and history of the Antarctic shelf.
"A detailed post-LGM chronology of the Antarctic Ice Sheet (AIS) retreat is a necessary element of assessing the Antarctic Ice Sheet's future stability. Multibeam bathymetry data have become increasingly valuable for identifying essential elements for establishing the ice sheet retreat history including paleo ice streams, imaging detailed glacial morphological features and their configuration on the continental shelf.
"As more and more SCAR member countries deploy and use multibeam systems there is an increasing need to identify best acquisition practices as well as gaps in current data coverage to obtain critical information for the reconstruction of paleo ice flow in Antarctica.