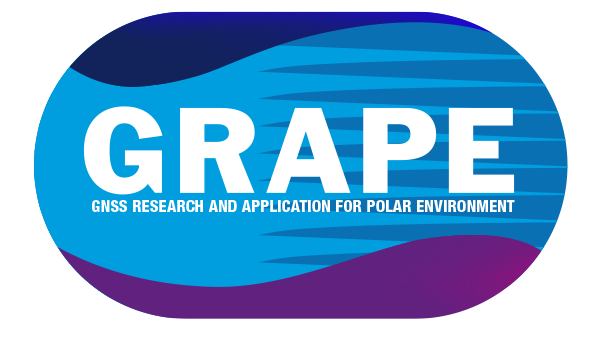 The GNSS (Global Navigation Satellite System) Research and Application for Polar Environment (GRAPE) aimed to build and coordinate a robust network of international collaborations to address a variety of weather and space weather related needs at high latitudes and the polar regions (Arctic and Antarctica), through ad hoc data sharing and models development. Its work has been absorbed into the Antarctic Geospace and ATmosphere reseArch (AGATA) programme planning group.

Background
Built on the SCAR Action Group GPS for Weather and Space Weather Forecasting (GWSWF) and taking advantage of the Interhemispheric Conjugacy Effects in Solar-Terrestrial and Aeronomy Research (ICESTAR) experience, the GRAPE Expert Group continued efforts to build and coordinate a robust network of collaborations in order to answer a variety of space-weather-related needs through ad hoc data sharing and model development.
GRAPE was based on the use of the classical GPS POLENET array and the growing coverage of modern GNSS systems, on the availability of advanced modelling and on the opportunity offered by the advancing solar cycle.
Further details are on the external GRAPE website.

Terms of Reference
The main objectives of GRAPE were to:
Create and maintain distributed networks of specialized GPS/GNSS Ionospheric Scintillation and TEC Monitors particularly at high latitudes;
Identify and quantify mechanisms that cause scintillation and control interhemispheric differences, asymmetries and commonalities in scintillation occurrence and intensity as a result of the geospace environment conditions;
Develop ionospheric scintillation climatology, tracking and mitigation models to improve prediction capabilities of space weather;
Retrieve tropospheric PWV for input to weather forecast models and to develop regional PWV climatology for atmospheric sensing in remote areas.

How GRAPE worked
GRAPE was arranged into five work packages:
S-T interactions and ionospheric effects in the current solar-cycle;
- Multi-instruments investigation of the upper atmosphere plasma dynamics and scintillation generation (SuperDARN, GNSS, ionosondes, VLF, etc.)
- Scintillation climatology, TEC fluctuations, structure scale, C/N statistics, etc.
Lower atmosphere delay in GNSS based systems (water vapor reconstruction, etc.);
Modelling and models testing;
Data management strategy;
Coordination with other programmes inside and outside SCAR (e.g. URSI, CAWSES II, SuperDARN, EISCAT 3D)

Data
GRAPE focused in particular on GNSS high sampling rate (50 Hz) receivers network at bipolar latitudes. Information on raw data and related products [Total Electron Content (TEC), scintillation indices, Rate of TEC (ROT), etc.] are available at:

Membership
The GRAPE group was led by Giorgiana De Franceschi (Chair) and Nicolas Bergeot (Deputy Chair).
See the pdf list of members (113 KB) for more information on participating institutes and researchers.

Publications
pdf A list of selected publications (211 KB) by GRAPE members in journals and conference proceedings from 2012 to 2022.

GRAPE reports and other publications:
11 January 2023

210 KB

140 downloads

15 April 2021

137 KB

803 downloads

17 September 2020

712 KB

917 downloads

17 August 2020

124 KB

643 downloads

16 September 2019

88 KB

1243 downloads

05 September 2019

106 KB

2207 downloads

20 September 2018

6.28 MB

2993 downloads

20 September 2018

755 KB

2633 downloads

30 January 2018

998 KB

1205 downloads

02 August 2017

937 KB

2927 downloads

11 September 2016

870 KB

639 downloads

11 September 2016

244 KB

677 downloads

30 August 2016

2.13 MB

2765 downloads
Earlier GRAPE and GWSWF publications are available to view and download from the Resources section of the external GRAPE website.