Report from workshop on "Glacial Isostatic Adjustment, Ice Sheets, and Sea-Level Change – Observations, Analysis, and Modelling", 24-26 September 2019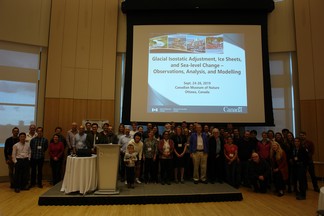 In late September 2019, around sixty-five researchers headed to Ottawa to attend a three-day workshop on Glacial Isostatic Adjustment (GIA), Ice Sheets, and Sea-level Change. Talks covered classical areas of GIA-related research – which focuses on using records of sea-level change and Earth deformation in combination with geodynamic modelling to further our understanding of ice sheet change – as well as cutting edge research involving coupled ice-sheet/solid-Earth/ocean modelling and consideration of the effects of three-dimensional Earth structure. There was a strong focus on data-model comparisons, with most parts of the globe represented at some point in a research talk or poster.
Thirty-five talks and sixteen posters were presented by researchers from fourteen different countries. Sixty per cent of the speakers were early career researchers and the gender mix was about 60%-40% male/female. Joint teams of established and early career researchers convened the sessions. Each session concluded with a period of discussion – which continued throughout the field trip to Gatineau Park on the Wednesday afternoon! On the first day, a lively poster session took place and the posters left up for the duration of the meeting. On the final afternoon, attendees drew up a list of outstanding research areas/questions, which may provide inspiration for future research. These questions build on the 10 questions drawn up during the Iceland GIA Workshop in 2017, providing more detail on areas specifically discussed during the 2019 workshop.
The workshop was held in the beautiful surroundings of the Canadian Museum of Nature in Ottawa, with dinosaurs providing break-time entertainment for attendees and accompanying children! The organising team was Thomas James (lead organizer, Geological Survey of Canada, University of Victoria), Glenn Milne (local lead organizer; University of Ottawa), Natalya Gomez (McGill University), Pippa Whitehouse (Durham University), and Matt King (University of Tasmania). We are grateful to Maryam Yousefi (University of Ottawa) and Connor Brierley-Green (Simon Fraser University) for additional logistical support. We thank John Crowley and Catherine Robin (Canadian Geodetic Survey) for organising the field trip. We are also grateful to our workshop sponsors: Polar Knowledge Canada (POLAR) and the Geological Survey of Canada (Natural Resources Canada). Travel funding was provided to twenty-five workshop attendees by SCAR's scientific research program SERCE (Solid Earth Response and influence on Cryospheric Evolution).
Research questions/areas identified during the 2019 Ottawa GIA workshop
Sea-level data

How do we account for the subtleties of assessing uncertainty in field data when comparing with model predictions?
How do we avoid skewing parameter inferences with poor data? When tuning or scoring a model, how should we weight the data to deal with data redundancy, correlation, or non-uniform distribution in time and space?
Where do we need new sea-level data, and how good does it need to be to be useful? Sensitivity analyses could indicate the locations and nature of data required to address specified model features.
Geodetic data

How can horizontal crustal velocities measured by Global Navigation Satellite System (GNSS) be employed to constrain processes related to GIA and ice sheet change?
Can changes in rates or phase information of geodetic time series be used to determine whether there is a transient (viscous) response to contemporary ice loss? GNSS time series are critical to understand rheology over decadal timescales, but this resource will become more limited in key regions within the next decade due to the anticipated termination of several large projects.
How should we account for non-physical signals in GNSS time series, e.g. due to seasonal ice build-up?
Novel data and information from other fields that could be used to constrain ice sheet and GIA model predictions:

Solid Earth deformation rates from beneath ice sheets and the ocean.
The age structure of the ice within the major ice sheets from radar reflection profiling.
Evidence relating to recent glacier and ice sheet advances.
Analysis of ice-marginal marine sediment cores.
New exposure ages constraining the evolution of ice margins and the thickness (surface elevations) of ice sheet interiors.
Projections:

What will be the contribution of ongoing GIA to future sea-level change? What are the uncertainties on these projections?
How should we draw together our understanding of GIA over different timescales to make more robust projections?
How will coupled ice-sheet/solid-Earth models affect projections of sea-level change?
Consideration of additional processes

How should we account for non-GIA processes when interpreting evidence for past sea-level change? Sea-level data record the response to sediment loading, ocean density/circulation changes, and tectonics.
How should we account for non-GIA processes when interpreting geodetic data? GNSS and satellite gravity data record the response to hydrological and atmospheric loading and contemporary ice mass change.
Coupled modelling

What are the relative impacts of feedbacks between solid Earth deformation and ice dynamics, especially in regions with low viscosity upper mantle?
How can we feasibly develop coupled climate–GIA–ice sheet models and what are the most important applications of these models?
Earth structure and rheology

What are the influences of plate boundaries on the modelled solid Earth response to surface loading?
What are realistic uncertainties in three-dimensional mantle viscosity structure?
Explore the influence of more complex rheologies in GIA modelling, such as those used to understand post-seismic deformation, and determine if they provide a superior explanation of GIA observables.
What can be learnt from parallel efforts to constrain mantle rheology in the fields of mantle convection modelling and laboratory deformation experiments?
Smart modelling

Are there smarter, or more rigorous, ways to search model parameter space, in particular, in relation to past ice sheet configuration?
What can be learnt from employing sophisticated statistical techniques, or approaches used in joint inversions, machine learning, adjoint methods, and so on?
How should we account for structural uncertainty when running GIA and ice sheet models? Can an improved understanding of structural uncertainty bridge the gap between data and model predictions?
Encourage the provision of rigorous uncertainty assessment to accompany model predictions or scientific inferences.
Open resources

Work towards producing open access repositories of data, code, and model output relating to GIA and ice sheet modelling, for elements such as sea-level data, GNSS rates, GIA model output, and three-dimensional mantle viscosity models.
Carry out a benchmark of three-dimensional GIA modelling.