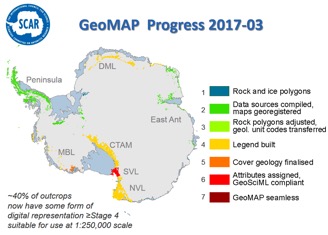 There are numerous, hard-copy, regional-scale geological maps of Antarctica that were developed last century. Many have been scanned, some have been georeferenced, but few are more than raster digital information. For the most part they are geologically reliable for defining bedrock geology ('deep time') but unfortunately they contain little representation of glacial geology. The maps have poor spatial reliability in the context of modern science (located by GPS and other satellite sensors), and the maps have not kept pace with the present importance of Antarctica's role in climate change. The SCAR GeoMAP (Geological Mapping Update of Antarctica) action group aims to remedy the situation.
The action group was first proposed in late 2014, and has held meetings at conferences during 2015 and 2016. GeoMAP's challenge is to collaboratively build a modern geological dataset that classifies and describes the bedrock and surficial geology of Antarctica's rock exposures – in practice this means classifying and describing around 72,000 distinct polygons that cover 51,000 km2. They aim to capture existing geological map data, update its spatial reliability, improve representation of glacial sequences and geomorphology, develop data in a GIS format and enable data delivery via web-feature services. In the first instance the focus is to provide a dataset describing the exposed geosphere aimed at cross-discipline use, or for continent-wide perspectives, then improve the dataset in subsequent generations.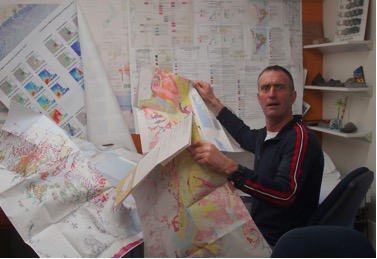 The group is led by Simon Cox (GNS Science, New Zealand) and Paul Morin (PGC, University of Minnesota, USA), who linking to local geological knowledge and work of geologists such as Gianni Capponi (Italy), Christine Smith Siddoway, John Goodge & David Elliot (USA), Belinda Smith Lyttle (NZ), Alex Burton-Johnson (UK), Chris Carson (Australia), Synnøve Elvevold & Tamer Abu-Alam (Norway), and many others.
"It's a massive job", says Dr Cox, "so wherever possible we are looking for opportunities to provide training for students in geoscience database development in return for some voluntary labour. The GNS Science office in Dunedin regularly hosts visitors from all over the world working on their particular area of Antarctic interest".
The work-flow follows a seven stage process similar to that used to make the digital geological map of New Zealand: (1) adjusting rock and moraine polygons; (2) scanning a registering old maps to build a spatial bibliography; (3) coding polygons with attributes according to map classification and source information; (4) building a consistent legend (the hardest part); (5) reviewing depiction of glacial geology and cover sequences; (6) translating into a GeoSciML data standard; (7) then developing a seamless continent-wide dataset (with reviewing and checking).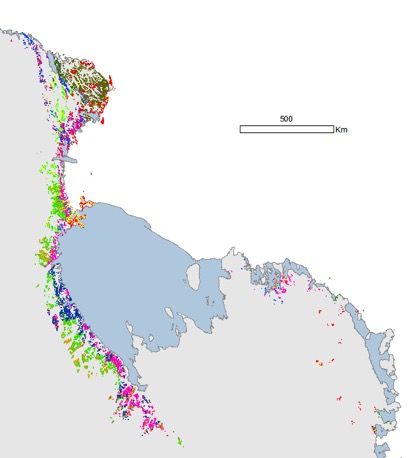 There has been significant progress in the capture of digital geology covering Marie Byrd Land, central Transantarctic Mountains, northern and southern Victoria Land, Dronning Maud Land and the Antarctic Peninsula.
"We were lucky to have two students working on the project over the austral summer nearly full time", reports Cox. "Using some seed funding support from SCAR, they made fantastic progress and we have now completed the first digital geological dataset covering all of the central Transantarctic Mountains".
About 40% of all the Antarctic rock outcrops now have some form of geological representation assigned to them suitable for use at 1:250,000 (or more-regional) scale. Small datasets are being prepared for peer review and checking as they are completed, and it is hoped the first version of a complete Antarctic dataset might possibly be ready for release by mid-2018.
The GeoMAP group welcomes anyone interested in capturing their geological and geomorphological data, or historic data from a particular region. Contact This email address is being protected from spambots. You need JavaScript enabled to view it..