A new publication, titled "Antarctic ecosystems in transition – life between stresses and opportunities", has been published in Biological Reviews. The publication is the outcome of SCAR's 2012-2020 Scientific Research Programme "Antarctic Thresholds - Ecosystem Resilience and Adaptation" (AnT-ERA). 25 international experts, led by AnT-ERA chief officer Prof. Julian Gutt from the Alfred Wegener Institute, Helmholtz Centre for Polar and Marine Research (AWI), analysed and compiled hundreds of articles on the Antarctic published in the past ten years. The result is a comprehensive assessment of the present and future of Antarctica and the Southern Ocean region.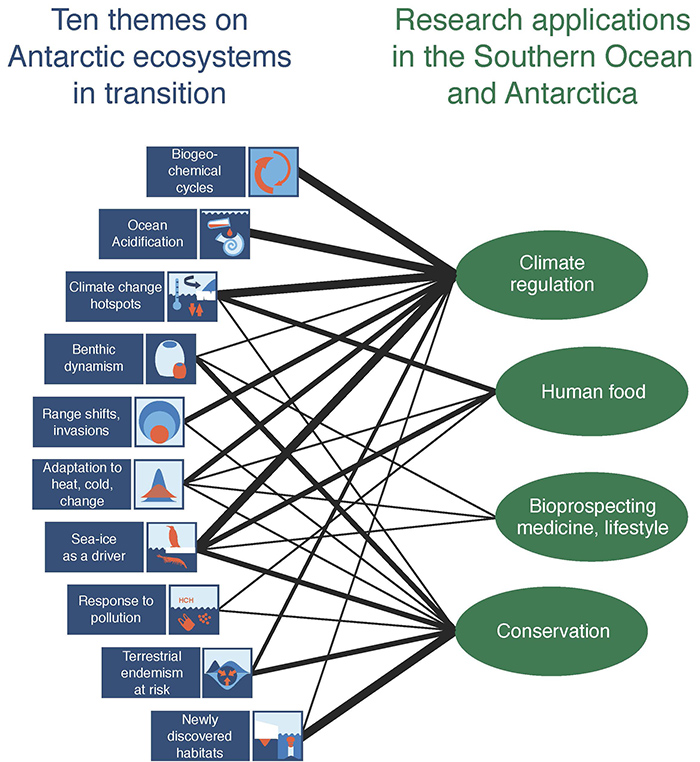 The team identified ten key messages and concerns:
altered biogeochemical cycles
ocean acidification
climate change hotspots
unexpected dynamism in seabed‐dwelling populations
spatial range shifts
adaptation and thermal resilience
sea ice related biological fluctuations
pollution
endangered terrestrial endemism
the discovery of unknown habitats.
The report synthesises these key findings, lists a large number of important publications between 2010-2020 and gives an assessment of confidence for each message and sub-message. Some of the findings reflect questions raised by SCAR's 1st Horizon Scan, which was concluded in 2014 and summarises biological findings of the yearly updates of SCAR's "Antarctic Climate Change and the Environment" report.
Of particular interest are the reactions of life to climate change and their contributions to global carbon budgets. Equally relevant are evolutionary adaptations to extreme polar conditions, which under climate change determines the survival or extinction of species. Ecosystems on land and in the ocean are under specific environmental stress and are subject to change in various forms and intensity. This change takes place in ecosystems that are either geographically isolated from the rest of the world and, thus, globally unique, or, alternatively, are more closely linked to adjacent habitats than previously thought. Findings from the Antarctic should therefore be considered in assessments of global biodiversity and biogeochemical cycles.
Changing marine cycles of matter and energy lead to an increase in biomass regionally and an increased biological storage of carbon originating from man-made CO2 in the atmosphere. Climate change not only results in losers, but also in winners. Species and rare communities that are adapted to very cold temperatures and ice are particularly vulnerable and endangered. There is also new evidence that low temperatures impede protein synthesis, limiting the ability of organisms to adapt to the specific Antarctic conditions.
The results show how life in the Antarctic responds differently, but also similarly, to environmental changes and in particular climate-induced warming and ice melting. Species, communities and ecosystems on land, in lakes, under the inland, shelf and sea ice and in the open ocean are affected. Long-term and large-scale observations are valuable indicators of change and can contribute to a comprehensive understanding of the response of key ecological species and processes to climate change, ocean acidification and pollution.
Prof. Julian Gutt concludes that
These observations are especially important in a time when climate change seems to affect the entire Antarctic, including areas that have been fairly stable so far.
Reference:
Julian Gutt et al. (2020). Antarctic ecosystems in transition – life between stresses and opportunities. Biological Reviews, doi: 10.1111/brv.12679