By: Irene Schloss
During the UNFCCC COP22 in Marrakech in November 2016 the Antarctic SCAR community was represented by Irene Schloss, SC member of AnT-ERA.
In the frame of the side event to the UNFCCC COP22 in Marrakech in November 2016 entitled "Urgencies in Fundamental Climate Research following the Paris Agreement" three main questions were asked:
WHERE WILL THE CARBON GO?
HOW WILL THE WEATHER CHANGE?
HOW DO WE MAINTAIN HABITABILITY?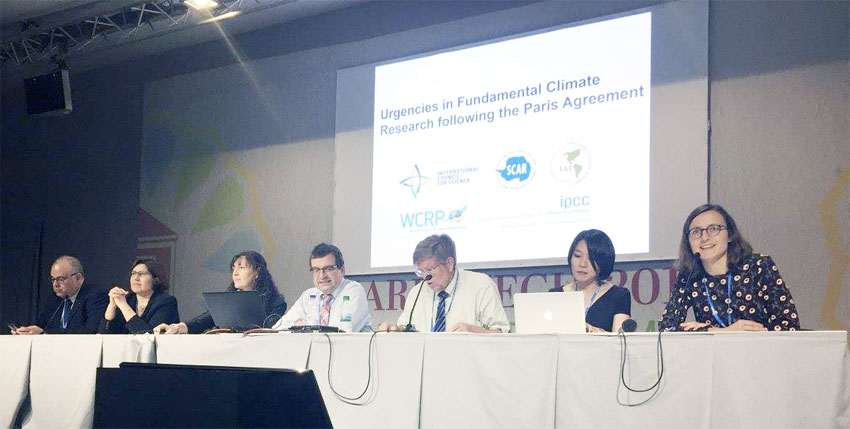 In the presentation by Irene Schloss these questions were addressed from an Antarctic perspective, having in mind that the Southern Ocean absorbs most of the atmospheric carbon, and that climate variability will certainly have an impact on carbon sink at scales that are relevant to both physical and biological processes. In addition, the Protocol on Environmental Protection to the Antarctic Treaty (the Madrid Protocol) aims to protect the Antarctic environment and its associated ecosystems. Caring about habitability in Antarctica refers to protect the marine and terrestrial biodiversity in an environment that in some cases (as in the deep ocean) has been stable over several million years. Understanding how weather will affect these ecosystems is again a matter of recognizing climatic patterns in scales relevant to biological processes.
Three other presentations were presented during the event (for the complete program, please click here). These presentations were followed by a general discussion and to a debate in which the panelist answered questions from the audience. Young scientists and students, as well as senior participants were actively involved in this part, which showed the interest in what the contribution of climate science to our understanding of global change in different environments. For video clips of side events click here.