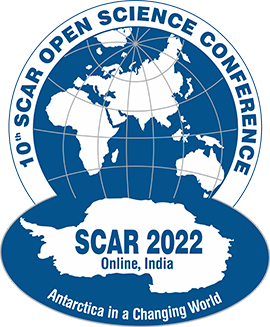 The deadline for submission of abstracts to the 10th SCAR Open Science Conference has been extended until Sunday, 12th June 2022.
Abstracts can be submitted here.
The 10th SCAR Open Science Conference of 2022 will feature a comprehensive schedule of meetings, symposia, virtual side events and social activities, daily plenary lectures and poster sessions in an innovative online format. All of the events will be designed to facilitate interactions and collaboration among researchers in different time zones across the globe.
The Open Science Conference, established 20 years ago, has in many ways become the premier activity of SCAR that supports its mission to promote and facilitate international Antarctic and Southern Ocean science. These biennial meetings have become fertile ground for the exchange of the latest and highest profile Antarctic research outcomes and a place where future collaborations are born. The structure and format for the conference has evolved over the years to enhance attendees' experiences and optimize impact. Recent global events have required innovation and a re-thinking of the delivery and format for the Conference as most of the world's meeting places went online. At the same time, SCAR has committed to ensuring that its activities are conducted in a manner that minimizes its carbon footprint by example as a lead scientific advisor on global climate change. To this end this year's conference will once again be online.
---
Important dates:
| | |
| --- | --- |
| 2nd June 2022: | Registration opens |
| 12th June 2022: | Abstract submission closes |
| 27th-29th July 2022: | SCAR Business Meetings |
| 1st-10th August 2022: | SCAR 10th Open Science Conference 2022 |
| 5th–7th September 2022: | SCAR Delegates Meeting |