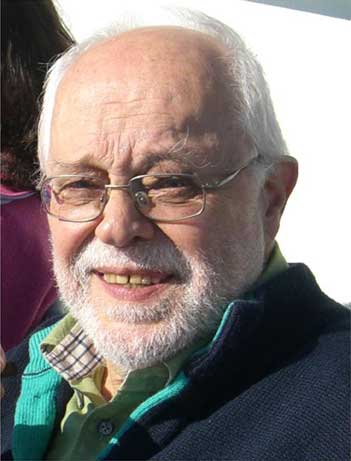 Last week the SCAR community was saddened to hear of the loss of Guido di Prisco, an eminent Antarctic scientist who played a crucial role in SCAR and in shaping the work of its life sciences community.
Guido di Prisco (1937-2019) graduated in Organic and Biological Chemistry in 1960 at the University of Napoli (Italy) and became a professor in Biochemistry in 1968. Initially through his research on the physiology of Antarctic fish, Guido developed into a true Antarctic biologist with broad knowledge across Antarctic marine diversity and ecosystems. His internationally renowned scientific work as a CNR (Consiglio Nazionale delle Ricerche) research director, until his retirement in 2004, remains fundamentally important for our understanding of the evolution and ecological functioning of life in the Southern Ocean.
His unique early results on the adaptation of fish to the specific and physiologically-challenging polar conditions not only astonished the scientific community but received much wider attention. In more recent decades, such studies have also become especially important in assessing the vulnerability of the Southern Ocean ecosystem to contemporary environmental changes.
Guido di Prisco was not only an open-minded excellent scientist in his own right, but also a very efficient science manager and coordinator, especially under the umbrella of SCAR. He acted as a national representative in the Biology Working Group and the Life Sciences Standing Scientific Group. He co-chaired the SCAR Scientific Research Programme "Evolution and Biodiversity in Antarctica" (EBA) and paved the way for the currently existing biology programmes "Antarctic Thresholds – Ecosystem Resilience and Adaptations" (AnT-ERA) and "State of the Antarctic Ecosystem" (AntEco), organizing important brain-storming workshops that drove their development.
His approach was always inclusive, and he had a particularly strong commitment to supporting and assisting the future generations of early-career researchers. Showing his typical passion and ambition, he continued to work as a scientist long after his formal retirement, writing and editing a number of scientific books. Working with colleagues assembling the last of such compilations, which is now in the final stage of publication, kept him busy until only a few weeks ago. Similarly, he contributed recently to a comprehensive synthesis of new results in Antarctic ecology during a workshop in June this year in Coimbra, Portugal. His broad knowledge of the much wider context within which Antarctic biology sits is further reflected by his contributions to the 2009 SCAR "Antarctic Climate Change and the Environment" report, of which he was a co-editor, and his regular and thorough contributions to the yearly updates prepared for the Antarctic Treaty Consultative Meetings.
Close colleagues remember Guido di Prisco as an excellent scientist, highly influential in the SCAR community and a good science manager. But they also say he was much more than that - he was a vibrant, energetic and committed Antarctic enthusiast who always showed respect for colleagues and especially young scientists. He was an outstandingly fair and open-minded person, friendly and warm-hearted, and will be greatly missed by all in the community.